I have my PC5 under the seat and being connected to the throttle bodies subharness, the PC5 wire is just long enough to make it. The Ignition Module has a wire of similar length but it has to go all the way up to the stick coils subharness. I could install the Ignition Module on the ram air tube as it is intended but I want it under the seat and it has to CANCOM cable to the PC5 anyway so best to be close by.
I'm thinking of using the same connectors that the stick coil subharness has to make two extension wires about 2 to 3 feet long (red wires in diagram) having the same gauge wire as the Ignition Module wire. will it be ok to use that to lengthen the Ignition Module wire to make the inline connection at the stick coils subharness?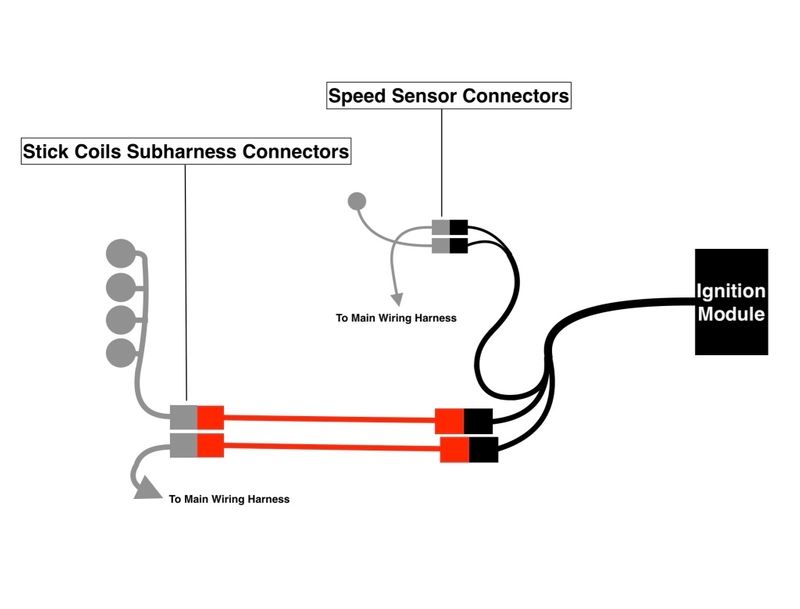 * Last updated by: Rook on 9/5/2017 @ 9:56 PM *
---
'08 MIDNIGHT SAPPHIRE BLUE flies out, full Tsukigi Cannon exhaust, BMC race filter, Muzzy's block off plates, 17/45 gearing, PC5, Romans map, AT-200, Bonneville PRO, HM PLUS quickshifter, Factory Pro EVO Shift Star, RC's oil pump cover, Shorai 14A2 Lithium battery, Spiegler SS clutch and brake lines, HyperPro RSC steering damper, Vortex rearsets, Ohlins FGRT807 forks and KA544 shock, Carrazzeria Tri-R wheels, Pazzo levers.