Embassador Sondland Throws EVERYONE Under The Bus

.
.
.
.
"Documentary filmmaker Michael Moore, who in July correctly predicted Donald Trump would win the White House, back in November said the president-elect's first term will end in either his resignation or impeachment."
So here we are, four weeks into the new administration, marred by scandal again.

Here are the latest developments in Trump's first four weeks as president:
In my opinion, it is not credible that Michael Flynn would call the Russian ambassador without the president's knowledge. One thing is certain, the number one reason to call him was to discuss has to be sanctions that Obama imposed. If he is going to talk about sanctions, he does not have the authority to tell anything about sanctions unless the president approves it. It is inconceivable to me that Flynn would go and call the Russian ambassador on his own to discuss Russian sanctions without the president's approval.
What would happen if the president of the United States did know about the conversations between his National Security Adviser, to whom he was very close, and the Russian ambassador at the time Flynn placed the calls?
If this same scenario has been happening under a Hillary or Obama presidency, Republicans would be asking for investigations.
The interesting thing is that the Trump administration knew about this matter, and remained quiet for three weeks. Why are they firing Michael Flynn now?

In Another News:
Look at how careless the Trump administration is with the nuclear codes and discussing sensitive information in the open in an unsecured location. And to think that they criticized Hillary for being careless with national security information. Too bad Michael "Lock Her Up" Flynn is out of the picture.
The images show them displaying national secrets in a public place. Can you imagine the uproar if those images depicted Obama or Hillary carelessness with the nuclear codes, and reviewing sensitive intelligence on a hotel, with guests taking selfies of their meeting?
There is talk in Washington that Trump won't complete one term. Rumor is swirling around that once the GOP get what they want in terms of tax cuts and deregulation, they probably throw him overboard.


.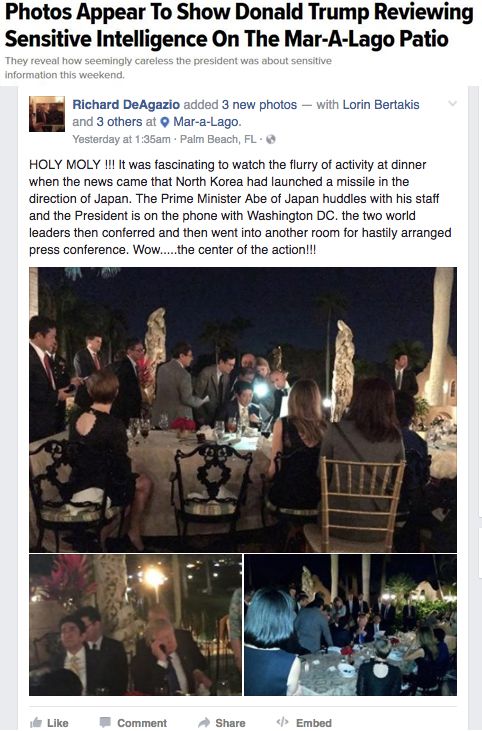 * Last updated by: KoflaOlivieri on 11/20/2019 @ 7:38 PM *
---
2010 Kawasaki ZX-14
1984 Kawasaki GPz-1100
1978 Kawasaki KZ-1000
1975 Kawasaki Z1-900
1972 Kawasaki 750 H2 triple