Thread about how it all started, and more back story:
http://www.zx14ninjaforum.com/messages.cfm?threadid=E6E46695-D56B-84E2-178F7EEA4EC42050
Things should be wrapping up over the next couple weeks so I thought id start a build thread.
Bike is a 07 ZX14. Old setup was BMC air filter, Full Brocks exhaust, and a Muzzy Nitrous kit. It did 180whp/103wtq NA, and 228whp/135wtq on a 50 shot.
Long story short, #4 spark plug feel apart, and beat the shit of the piston, and scared up the cylinder wall.

At that point, I figured, since the cylinder wall needs to be fixed, lets just punch the block from a 1352 to a 1451. Do full everything pretty much, and build a badass NA bike. Then Jerry came back with 2 price quotes. Big NA build Vs Stage 1 turbo build. Big NA was going to put me around 215-220whp and 130wtq, Thats almost my old nitrous numbers, so I was happy with that. BUT heres the thing, Stage 1 turbo build was only going to be about 2 grand more. BUT I could sell my Brocks exhaust, the nitrous kit, and the intake, and get some of that back. So in the end, the turbo build was only $750 more than that NA build, but we should easily do about 50 more whp compared to the NA build. So things were put in motion.
This is not being built to be a drag bike, this is basically just going to be a fun/crazy street bike. Street manners, and ridability are going to be a big concern on this build.
Staying 1352, doing JE 9.5:1 Compression pistons, Velocity Racing turbo kit with Garrett Dual ball bearing turbo, Tial Wastegate, Doing a port and polished head, degreeing the Cams, better clutch and stiffer springs, Its a pretty long list. lol
Just the main stuff I took pics of. They are 9.5:1 pistons, but we are also running a thinner head gasket, so compression will be close to 10:1
Box of parts, and Radiator

Fuel pump, FMU, Headstuds, piston rings, and some other random stuff.

Pistons, Velocity stacks, Boost gauge, head gasket, air filter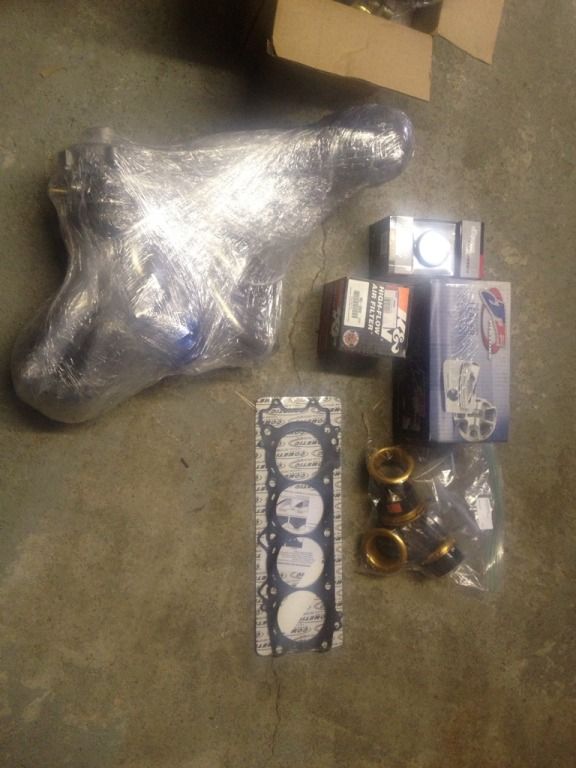 Turbo, manifold, exhaust, and Tial wastegate.

Already on the bike, New rear spring (front springs soon), Stretch kit, 9inchs is maxed out, obviously cant run 9 if you want to be able to tighten the chain, but I set it at 9 for now, just to get a feel for how it would look. Also made a metal undertail, so if the tire hits the tail it wont rip out the ECU (usually a problem on slammed 14s)
Right now we are still waiting on the Block to come back from Millennium, they are honing and replating the damage cylinder. The said it will be shipped back to us by April 5th.
And this is how the bike sits now, just waiting... yes the garage is clean now. lol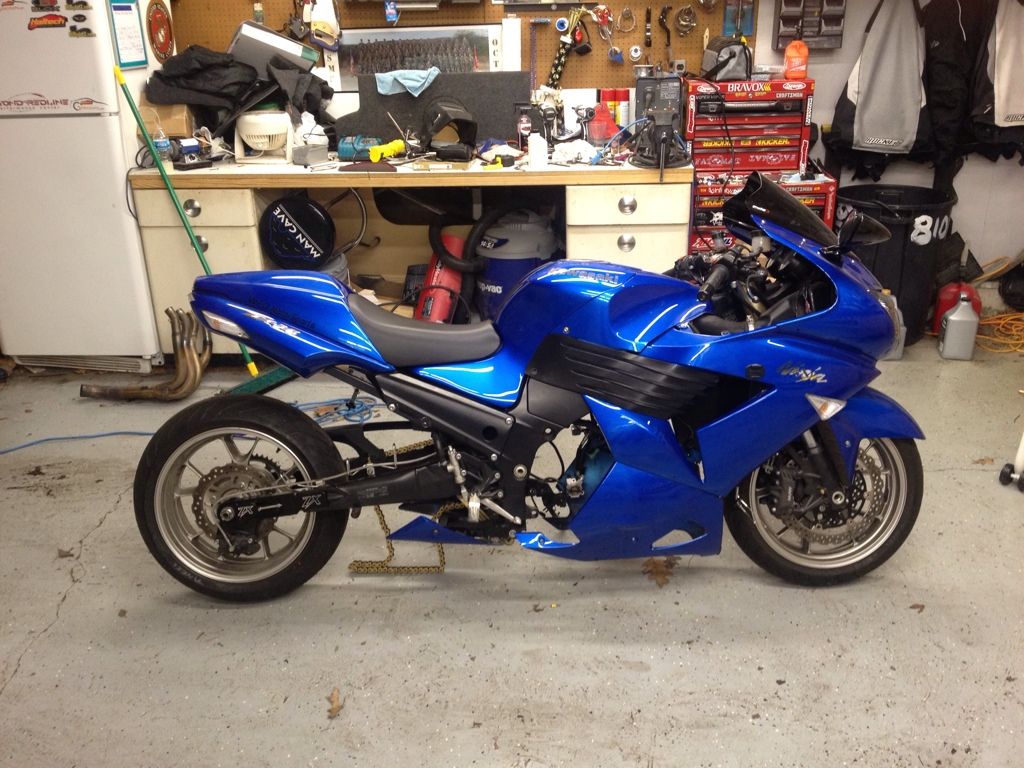 ---
2007 Plasma Blue ZX-14.
New build, Fresh re-plated block, Velocity Racing Turbo kit, JE Turbo pistons, P&P Head, and a whole lot more. Current on 8.5psi.

2013 White ZX-14R, Full Hindle exhaust, Puig DB screen, HIDs, drop pegs, bar risers, and so on, setting it up for touring.