This is more of a supplement to the service manual process to replace the steering stem bearing races than a complete how-to. A few ideas on tools and tips to make the process easier, without necessarily buying the exact tools mentioned in the service manual. If you already have tools or experience replacing steering stem bearing races, this may not be very helpful
This is not directions on exactly how to accomplish this tasks, I am only showing what I did and sharing my experience.
I tried a few different approaches and what I outline here was by far the easiest way to get this done. I'm not sure if bike to bike, races fit more or less snug. At least on my bike the races were extremely tight and even trying a few brute force methods, comparatively these tips will make it 10x easier (and even accomplish-able). Maybe some steering heads the races are a little less tight/interference fitting? On mine at least those SOBs were in there. I've replaced automotive wheel bearings many times, this was NOT the same experience but this was my first time replacing steering stem bearings.
For removal, part of the challenge is access to driving out the outer bearing races. Most bearing races I've worked with there is room provided around the entire circumference to drive on. Kaw's design there are basically 2 half moon areas to work with (see pic below), and that's a difference maker. Looking at some other tutorials, it appears this may be a Kaw thing or maybe a ZX-14 thing, as I saw no other examples of this half moon shape concept being used of different makes and models. Maybe it's a sportbike thing?
Resources
Kawasaki Service manual
Motion Pro Steering Head Bearing Race Driver (55mm required)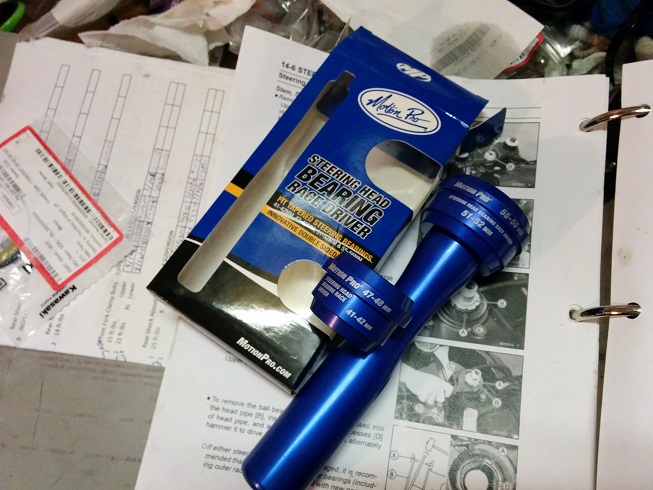 12" 1-1/4" threaded pipe section with 1 end cap (threaded)
1/2"-13 x 10" Zinc Grade 2 Carriage Bolt (see below)
Wheel bearing or similar bearing grease
Replacement wheel bearing sets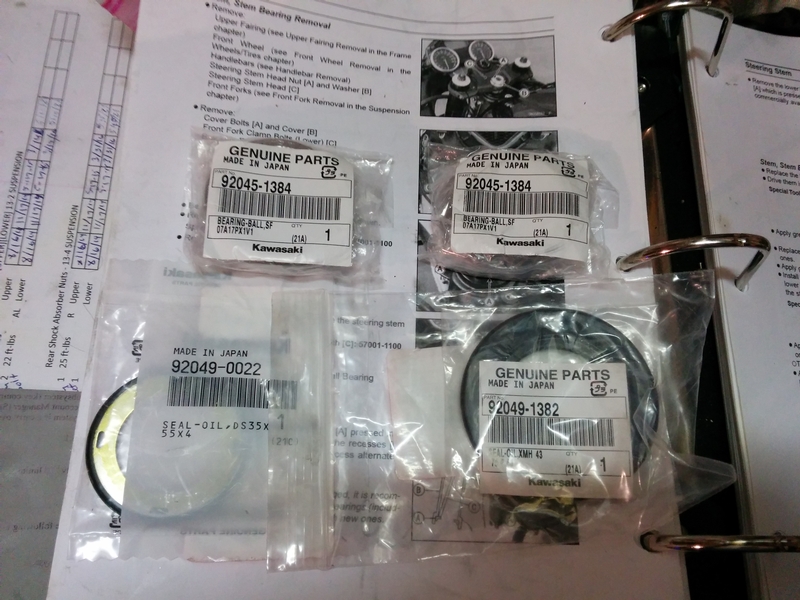 Tools to avoid:
Do not use bearing drivers that are close...use the Motion Pro or similar 55mm driver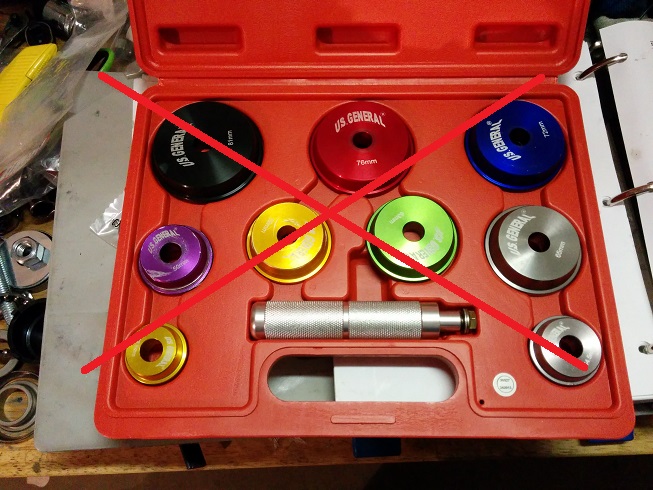 Do not try to use standard flat tipped punches, they will just bounce off the races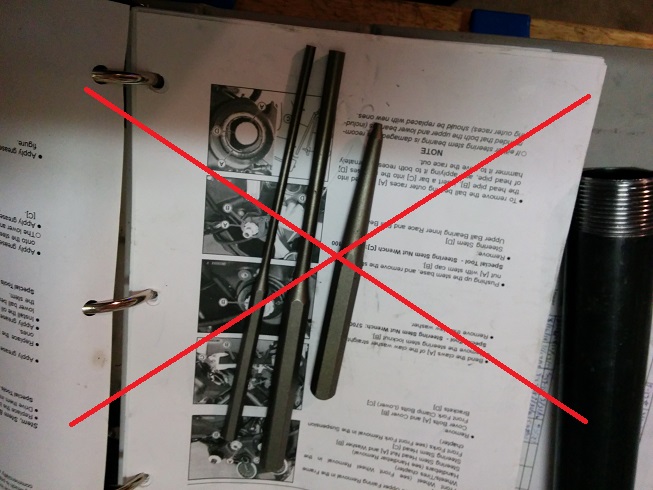 Overall process
Follow service manual process to the point the steering stem is removed.
Using a grinder or similar tool, bevel down the sides and bottom surface to match similar in the picture below. The idea is to make so the bottom is flat against the back of the bearing race, so the strikes are more solid and do not deflect such as when using a standard punch such as the one's shown above.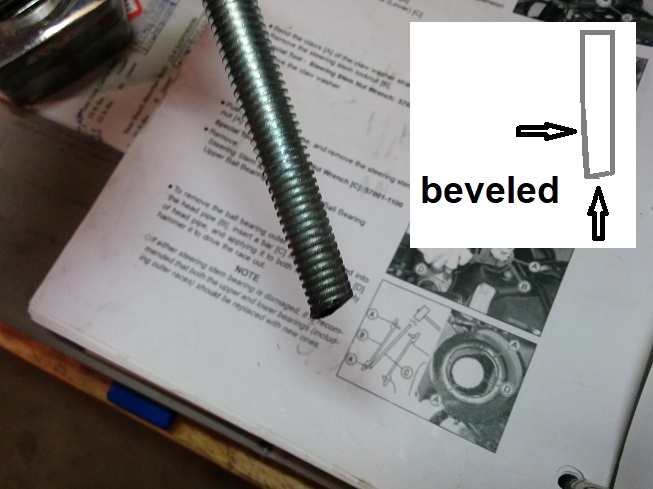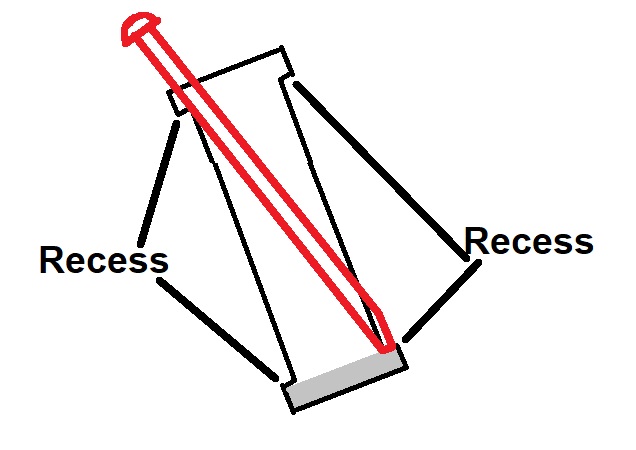 Outer race removal
Use the fashioned tool in this manner as illustrated below. Since the threaded side is also beveled basically helps guide the strike into the bearing race while also resting against the outside of the steering stem tube. I experienced no damage, marks, or visible scuffs using this process.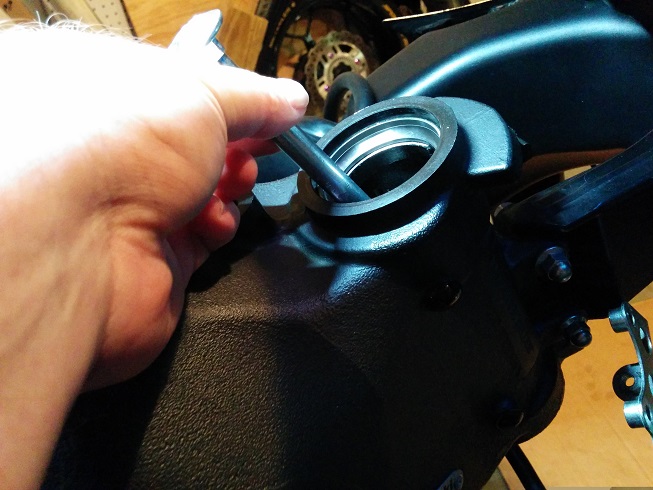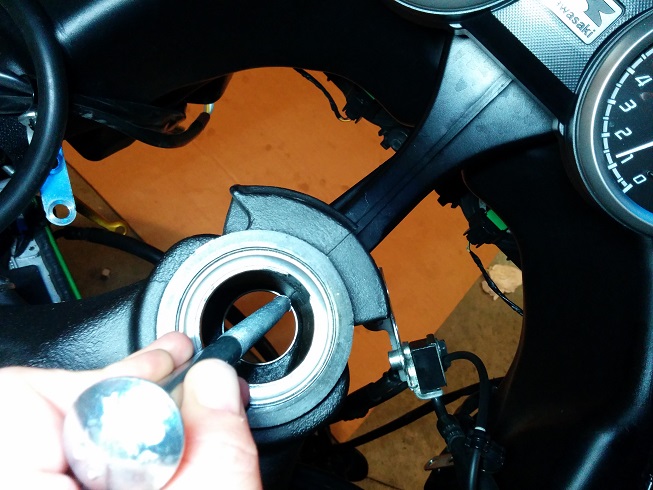 Outer race installation
Using the Motion Pro tool with the 55mm side, the race drove in easily from top and bottom. I STRONGLY DO NOT RECOMMEND trying to use common auto drivers that even seem to fit closely.
Inner race installation
Use the threaded pipe and old inner race to drive the new race. It should seat very easily using this process.
I'm not even sure you couldn't use PVC to do this, but this worked very well.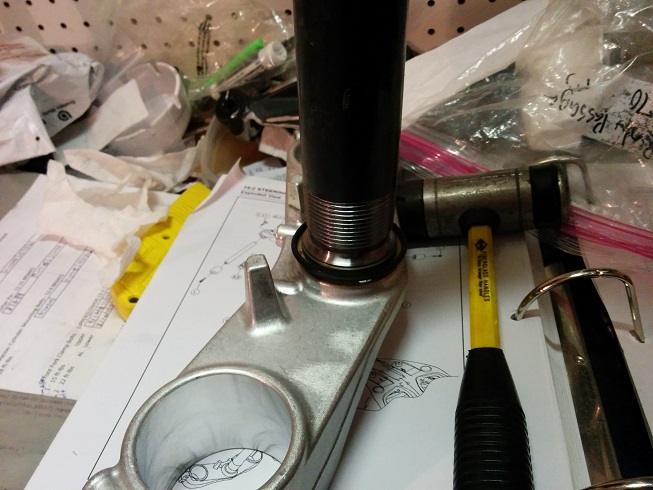 For sections not specifically covered here the manual process should be followed.

* Last updated by: VicThing on 11/5/2022 @ 8:46 AM *