Hi all, I am planning to sell my 2015 Green/Black ZX-14R and am returning it to stock. I have some aftermarket items to sell, so please feel free to make reasonable offers on any of the items listed below. I am selling the pictured Chinese fairings (at a low price) and will be putting the stock fairings back on the bike prior to its sale. Also, I have almost a full set of extra stock fairings for this bike (green/black 2015) including another tank, so hit me up if anyone needs any of the green/black OEM fairings from 2015. I live in the Cincinnati, Ohio area and prefer in-person transactions whenever possible to save the hassle and expense associated with shipping. I tried to include enough pics to see everything listed, but please get back to me if you are genuinely interested in something and would like to see additional photos. Thanks! Gabe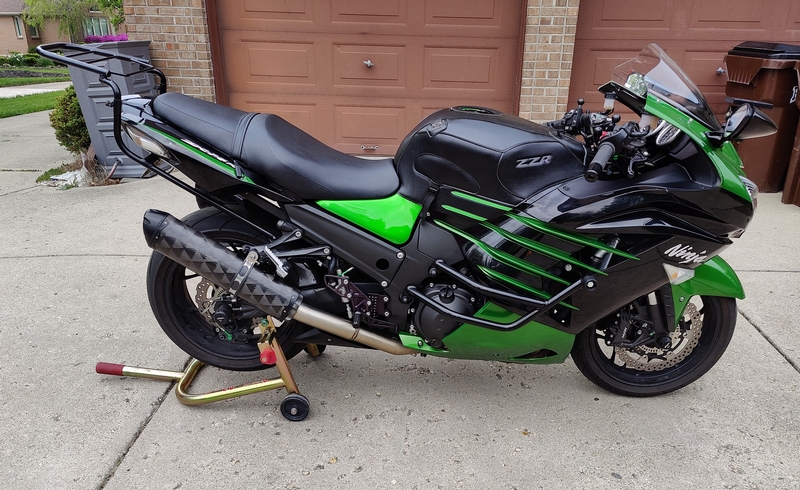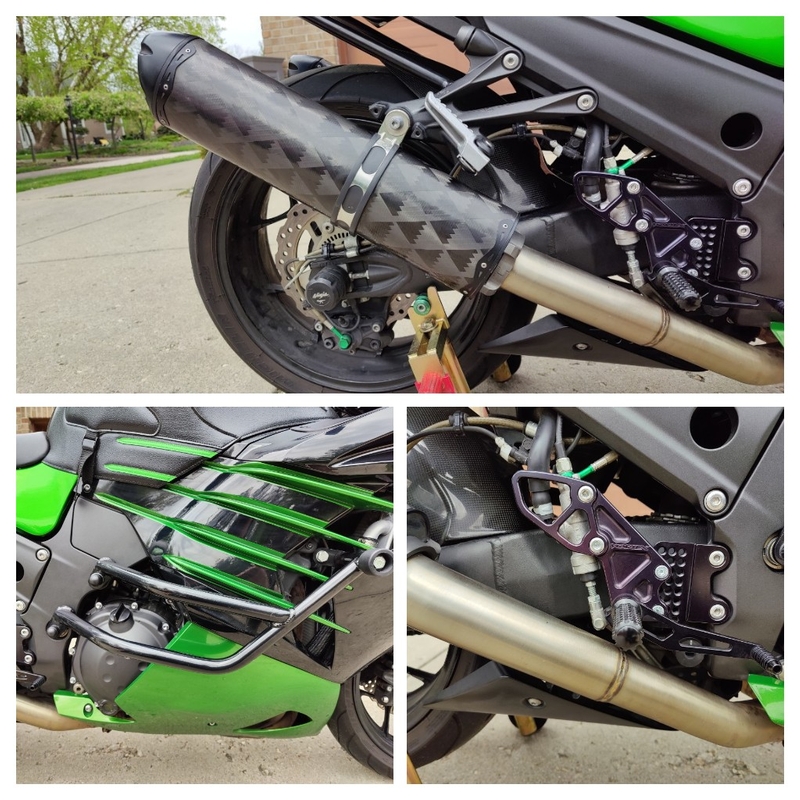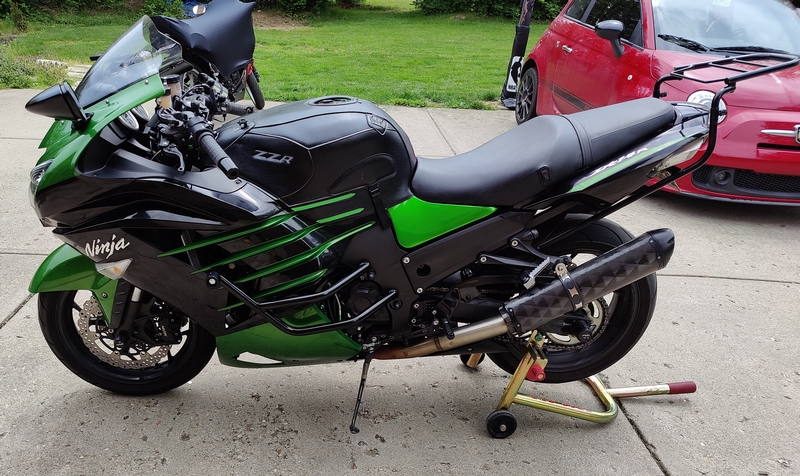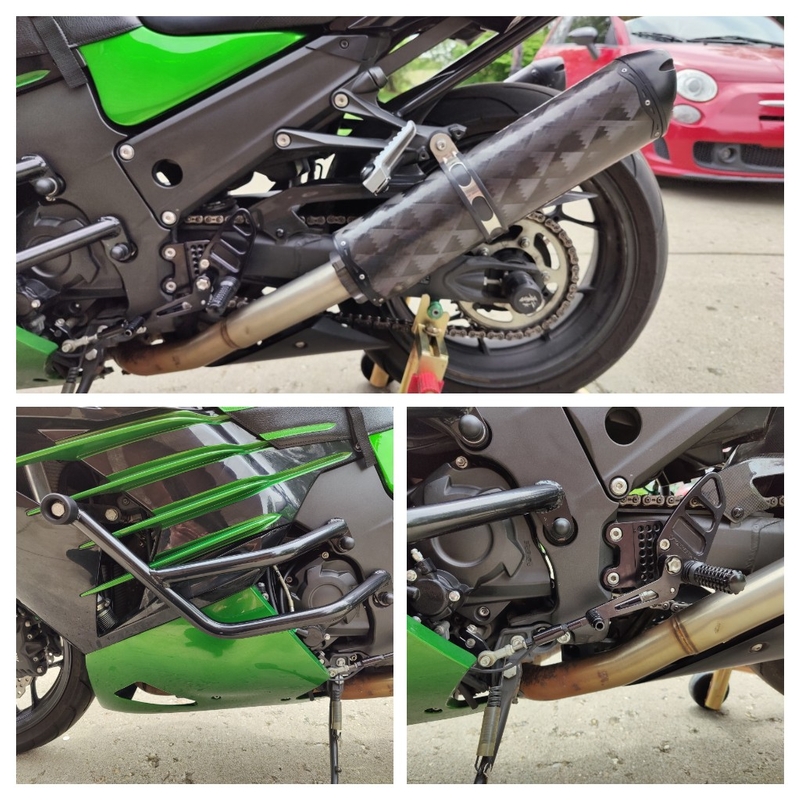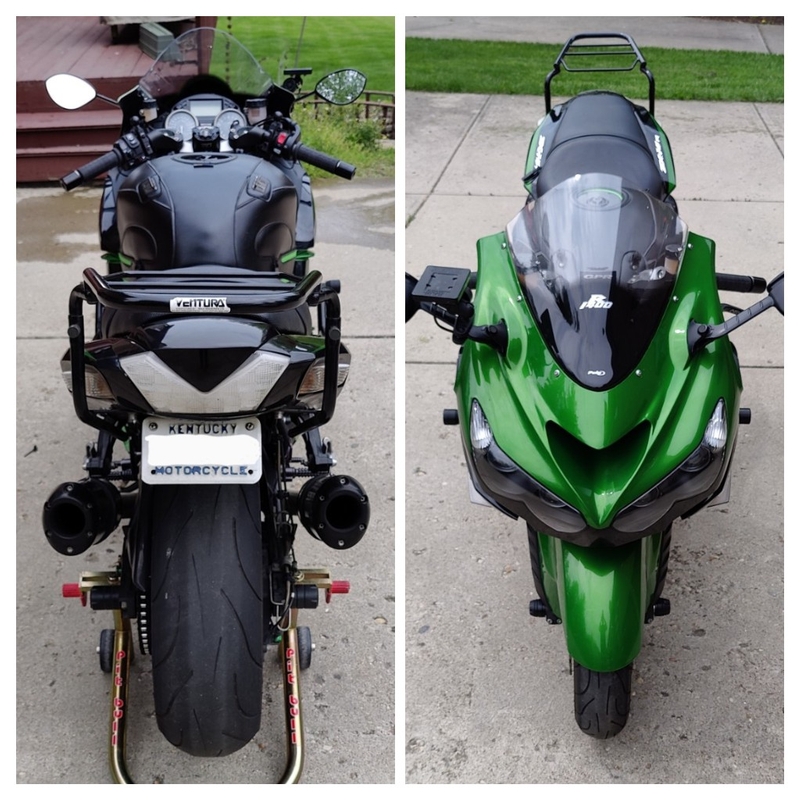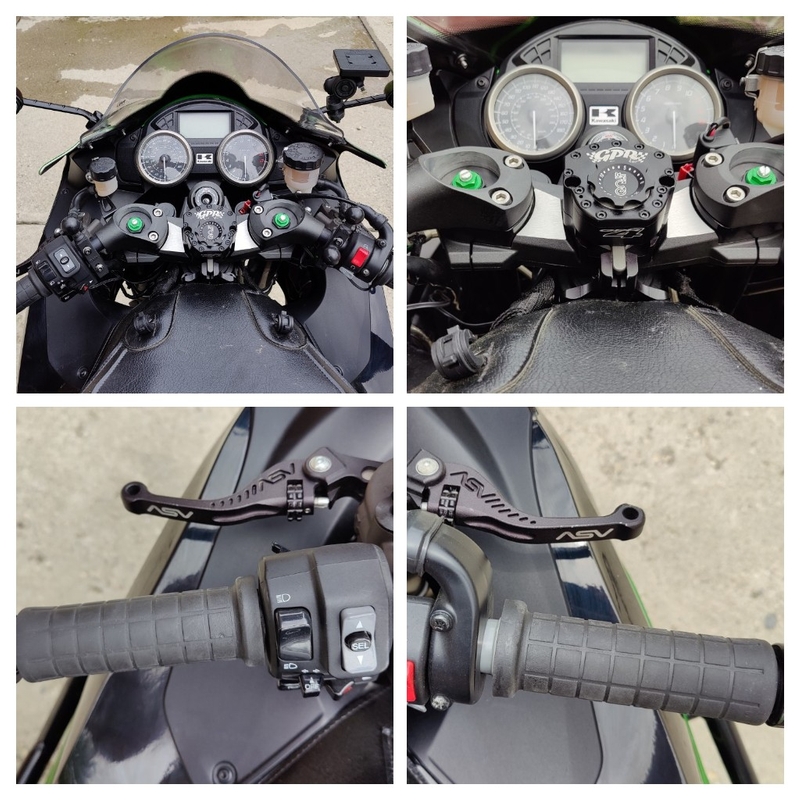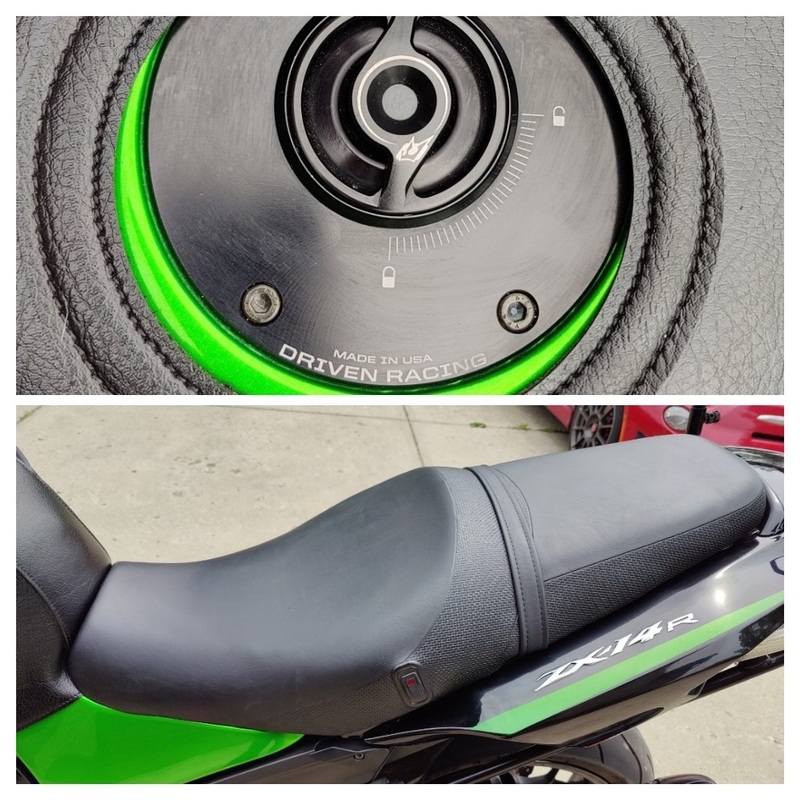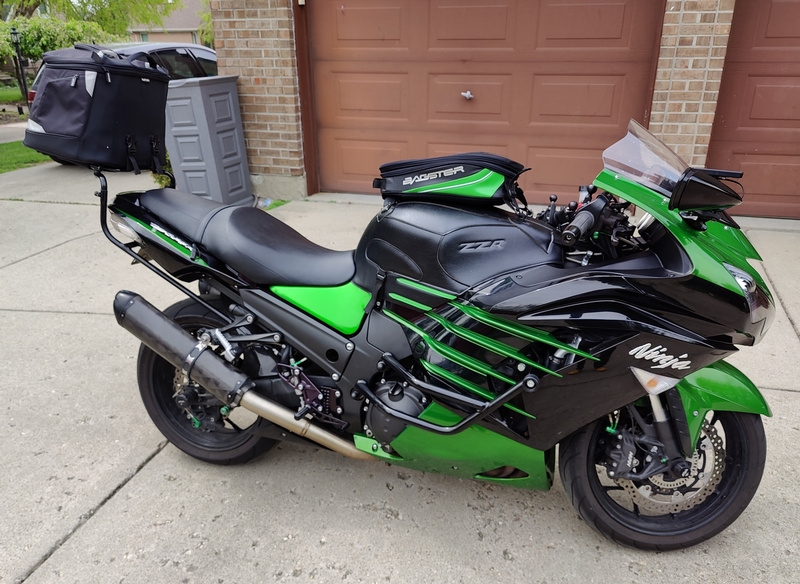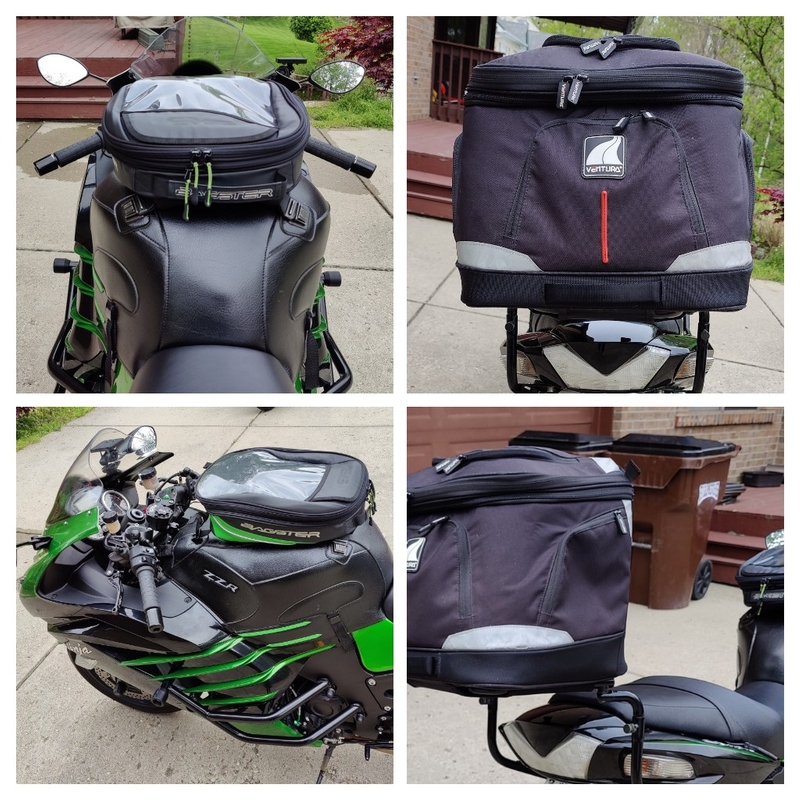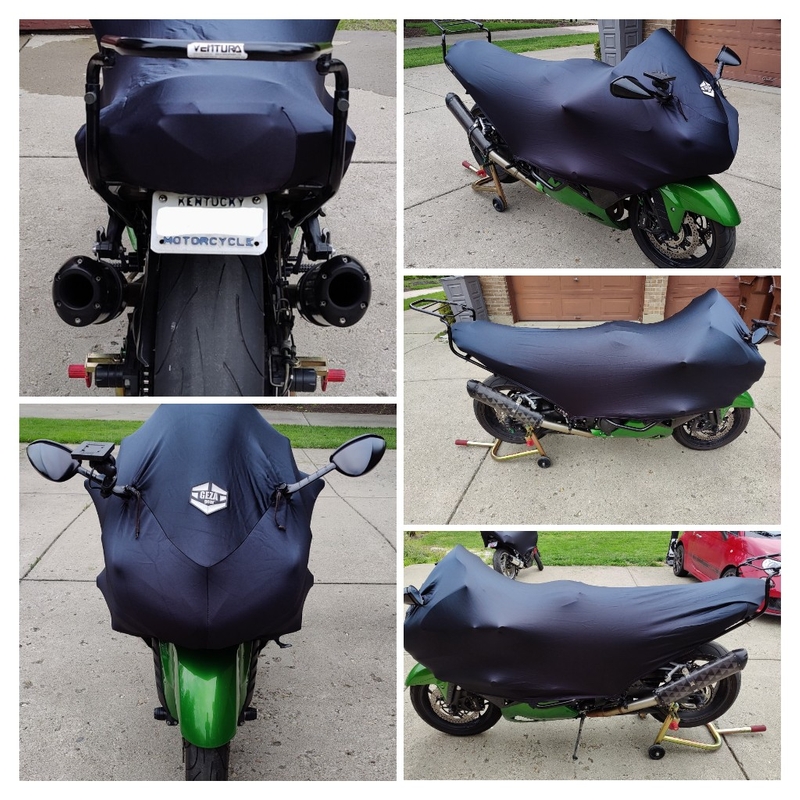 1. GoMotoTrip ZX14R Black Green Fairings - $300 plus shipping (probably would make most sense as a local pickup)
Fairings include everything pictured except for the tank, undertail, and hugger. These are not exactly the factory colors or the factory color scheme, but they are pretty close and I used these fairings to avoid wear and tear on the OEM plastics. These fairings include heat shield material that I installed to protect the fairings from the heat of the engine. Note that these fairings have typical wear and tear of used fairings. As I've performed maintenance on the bike, I noticed a few places where the tabs on the fairings broke, but nothing that has affected the performance of the fairings and they are all still securely attached to the bike. Also note that I used the Bagster tank cover to hide that the green of these fairings is not a perfect match to the OEM green of the tank.
SOLD 2. Kawasaki ZX-14R (2012-2022) Dual M2 3K Black Carbon Slip-On - $300 plus shipping
Note that I debadged these canisters. I also scratched one of the mounting x-rings, so I touched it up with black and turned it around to the inside of the pipe (you can't see it at all). These cans don't look brand new, but don't have any major scratches or flaws and probably look the same as any new set would look after a few rides.
SOLD 3. Crazy Iron Crash Bars - $125 plus shipping
These are really nice crash bars and, unlike frame protectors, will not just bend when a heavy bike like a 14R falls on them.
4. GPR V4 Stabilizer Kawasaki ZX-14R 2012-2021 - $250 plus shipping
SOLD 5. Driven Racing Halo Fuel Cap Base and Halo Fuel Cap - $80 plus shipping
6. ASV Shorty C5 Series Sport Clutch Lever # CRC511 and Brake Lever # BRC511 - $125 for both plus shippingI purchased these levers second hand off of Ebay and they had some light scuffing on the ends. I touched it up with black paint and have had no issues with these levers from a looks or performance standpoint.
7. Heli Bars Tour Performance Handlebar Risers - $40 plus shipping
8. Vortex Adjustable Rearsets Kawasaki ZX14R 2006-2021 (RS441) - $225 plus shipping
I currently have these setup for GP shift with an Annitori Quickshifter. This means you simply tap down while you're on the gas for clean clutchless upshifts. I highly recommend this configuration and hope that someone buys these rearsets with the Annitori qoickshifter so they can see what this is like. If someone does buy both (the rearsets and the quickshifter), then I'll include the linkage that is the correct length to make this work. Otherwise, I will ship the rearsets with the same linkage that they came with when they were new.
SOLD 9. Annitori QS PRO Quickshifter with plug top coil loom - $100 plus shipping
See notes regarding Vortex rearsets. Currently set up for GP upshifts.
10. Ventura EVO-40 Bike Pack Kit - $250 plus shipping
SOLD 11. Bagster 1635C Black Green Tank Cover and Bagster Roader Tankbag - $100 plus shipping
This is a really nice tank bag setup that avoids any damage to your tank.
12. Geza Super Light Cover - $100 plus shipping
I used this cover and an electronic disc lock when I would ride this bike to work. I liked that it kept wandering eyes off of the bike (and many of the above aftermarket parts), protected the painted and anodized parts from the sun, and packs up really small. I buy these half covers for all of my bikes.
13. Astech seat rebuilt with comfort gel and heat for rider - $100 plus YOUR stock seat (in same or better condition)I spent over $300 getting this seat rebuilt by Astech and it was worth every penny. The gel is much more comfortable than the stock foam and heat was a nice feature on cool days. I used a Neutrino black box to control the heat. You  can either connect directly to the battery and use the seat's built-in on/off switch and/or purchase some sort of heated gear controller to wire between the seat and battery.
SOLD 14. Hot Grips Model 475-875 Open Ends Grips - $50 plus shippingThese are supposedly the best heated grips ever made. I used these with a Neutrino black box controller. You will want to wire in your own switch or your own controller.

* Last updated by: McycleRider on 5/17/2022 @ 9:15 AM *