Hello my friends,
My name is Hector Santiago.I'm 35 Pharmaceutical Company prescription drug manufacturer. Born & raise in the island of Puerto Rico. I got turn into motorcycles since I was in kindergarten, my aunts husband used to pick me up on his Harley and ever since the love for the two wheels never stop and will never will stop ! Used to play with four wheelers my two favorites were my 86 Honda 250R and my 87 Yamaha Banshee from there I went to bigger bikes, can not afford them at the time but I have a cool cousin who let me borrow some of his like the Interceptor, a Honda Hurricane and a Ninja 1000.
I join the ARMY in 1991 wright out of high school and move to the states, love it ever since and I stay for good on new years of 1993 and been here since in the great state of Pennsylvania. After a long time without two wheels I purchased a brand new 1998 Suzuki GSXR 600 Blue/White but got stolen 3 weeks later

but thanks to the sucking ass from Progressive Insurance I could not get a new bike to the following year. Since I return to the same dealer I got the first Gixxer they cut me a nice deal on a left over 1998 Suzuki GSXR 600 Black/Red and I rode that baby for years I put over 25,000 miles. On 2006 after tons of mods from chrome, undertails, pipes, carb jets, different gearing, I sold it.
Then on my 35 year birthday last year I got the most wonderful gift ! The call from the dealer telling me the left over 2007 Ninja ZX-14 got approved by my bank !

Happy Birthday to me !!! Ever since I have to said it been more than love for this bike. I been in so many different bikes from friends but never on a ZX-14, then when I got the first ride on her words could not explain the feeling it got on my veins ! This bike is like no other to me and I will for sure stick to it for years ! Can't wait to put more add on's on her to make her my own !
[img]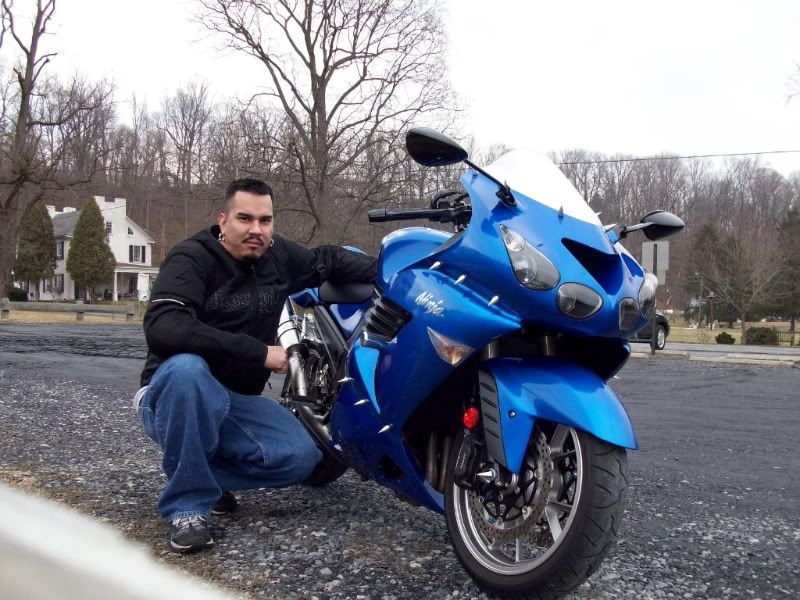 [/img]

* Last updated by: Ninjaboy07 on 3/12/2009 @ 9:38 AM *