I was told this was mandatory around here and I wouldn't want to break edicate lol - sooooo:
I'm reposting this from the zrxoa site so if you read it there you can skip this one. Just a little quick background first since I haven't been around here long - you can skip this if you just want to get to the ride. I've ridden my whole life except for periods where it wasn't possible. I roadraced in the late 80's on the west coast, had a bad crash at Sears Point that broke my back in 3 places and a bunch of other stuff. Had to learn how to walk again and it took me almost ten years to get back on 2 wheels. In the mid 2000's I picked up single track trail riding and started racing enduros.
In 2012, I came down with an auto immune disease. In Octobers I was racing enduro's for upwards of 6-7 hours on the bike. In 6 weeks I went from racing enduro's to not being able to stand up. Took a while for them to figure out what was going on - extremely rare disease (5 in a million - 23,000 total had it in the US at that time). Was wheelchair bound for about 6 months, then a walker for a while, then a cane, etc. MANY hospitalizations, meds, etc. A couple years ago I bought an 83 KZ750 Spectre to get back on 2 wheels but didn't get on well with it - the bars were horribly uncomfortable. Rode it here and there but only for 20 or 30 minutes at a time.
We have the disease pretty under control now (it'll be with me forever) with meds including a couple forms of chemo to keep my immune system suppressed. Bought my ZX14r in August from a dealer in NC - flew down and rode it home over a few days. All of that to say that I didn't think a long road trip would ever be something I'd get to do again - if I was ever able to ride again period.
<<<<<<<<< Skip to here if you don't want to read why this trip is so meaningful to me >>>>>>>>>>>
I took 2 weeks off work to ride to Austin, TX for the MotoGP races. Being the beginning of April you never know what the weather might bring - we've had snow storms in April. I wanted to be in Austin by thursday night at the latest so that I could watch all of the practice sessions on friday. I gave myself a 4 day window to leave and still get there in time. Worst case I was going to load the bike in the back of a friends truck and we'd drive south until clear of the snow. The later I had to leave the less fun I'd be able to have on the way down as I'd have to take more freeways instead of the back roads that I was planning.
Day 1 - Saturday 4/6/2019
I was planning to hit the road by 8am but I wasn't able to get done with work until 8pm friday so I wasn't able to finish my packing and at midnight gave up. After finally getting everything in order hit the road around 11am. A lot of freeway time on this leg until I got down to Louisvile. Attempted to ride along the north side Ohio river all the way to Evansville, IN. That worked for a while (very fun road, lots of hill peaks, turns that bottom out at the apex and then climb back up, etc) but there was flooding in some areas and the road was closed. GPS routed me on Indiana 62 which ended up being fun as well - 55 mph speed limit most of the way and lots of nice sweeping turns that were fun at 70. I got into Evansville around 10pm and called it a night (I was planning on going further). The only drama today was a dog that came out of nowhere out of a yard making a beeline for me (it was close). Got into a hotel, went and grabbed a bite to eat and then went to my room, checked the weather (wasn't pretty) and passed out. The weather was beautiful all day today with temps in the low 60's to mid 70's and partly cloudy. There were large storms coming up from the southwest that were going to hit around 2am and last until 11am or so.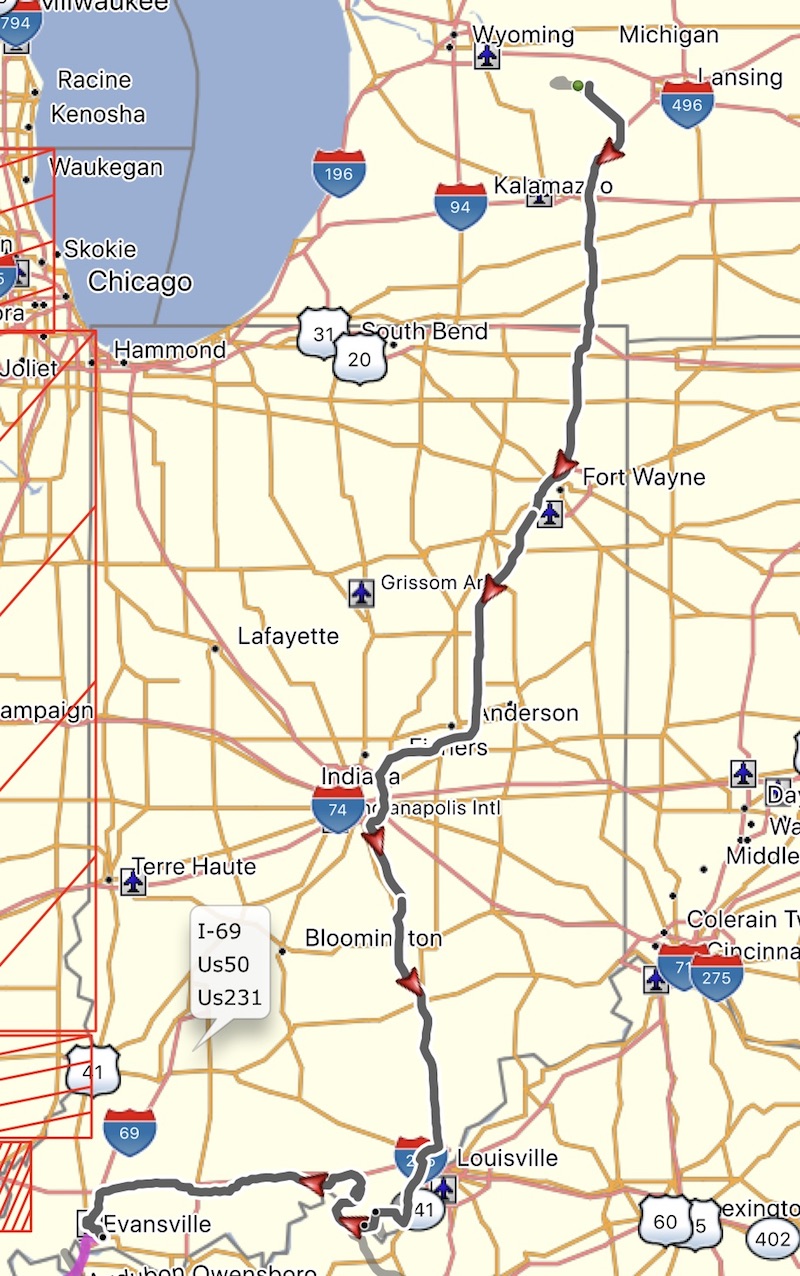 * Last updated by: SteveStLaurent on 4/8/2019 @ 8:36 PM *